Premium Refrigerator
Gourmet refrigeration that's as versatile or as specialised as you want it to be. The AGA Premium Refrigerator is so much more than a stunning focal point in the kitchen - it has undergone rigorous testing to ensure optimum performance.

The AGA Premium Refrigerator is designed to complement an AGA cooker perfectly.

Available in standard or maxi.
DXD Refrigerator
With a total net capacity of 510 litres, the DxD French door fridge-freezer from AGA is big enough to cope with the demands of any family.

And with 'A+' energy efficiency rating and the quality of finish you'd expect from one of the UK's best-loved brands, the DxD fridge-freezer is seriously cool.
SXS Refrigerator
With an A?? energy efficiency rating and a generous net capacity of 552 litres of storage, the SxS refrigeration system is generous enough to meet the needs of even a large family.

Available in stainless steel and the two most popular AGA colours – black and cream – it combines good looks with state-of-the-art functionality, including digital temperature controls, electronically controlled filtered water and ice dispenser that can make crushed or cubed ice.
Premium Wine Cellar
Great wine deserves the finest storage – and that means maintaining ideal temperature and humidity levels.

Whether a Chablis or a fine champagne, the AGA Premium Wine Cellar protects your liquid assets from heat, light, vibration and anything else that could contaminate or alter their
perfect taste.
Undercounter Wine Storage
The AGA 54-bottle Single Zone and 44-bottle Dual Zone wine Storage units are part of the new AGA Wine Storage range.

Both models have exclusive Sentry control system within top panel of the unit which ensures easy access. The system maintains a constant, precise temperature.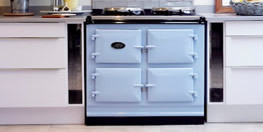 Beneath the design values of every AGA range cooker lies a heart of cast-iron. Ready to cook whenever you are, with no switches and dials to master.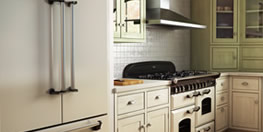 The AGA refrigeration collection is innovative, reliable, classically designed and unmatched in terms of performance as you would expect from AGA.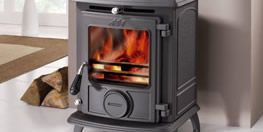 Generations of children have grown up with the traditional AGA range cooker in the kitchen. AGA also produce quality woodburning and multifuel stoves.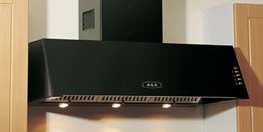 Complement your AGA range cooker with one of our cooker hoods, our vent hoods coordinate perfectly with any
AGA range of cooker.