Key Features

:


•

Independently controllable hotplates


•

New low energy setting for the ovens


•

3-oven includes a roasting oven, simmering oven and a baking oven


•

Reduced running and servicing costs


•

Available in 12 beautiful colours


•

Site anywhere in the kitchen, including an island unit


•

All new AGA heat-storage range cookers come with a five-year


•

parts warranty and one-year labour warranty



Fuel Type:




Electric



Colours Available:


Cream, Aqua, Aubergine, Black, British Racing Green, Dark Blue, Duck Egg Blue, Pearl Ashes, Pewter, White, Heather, Pistachio
How It Works


The new electric AGA Dual Control is everything you love about the AGA cooker, but with added flexibility and much reduced running and servicing costs. The AGA Dual Control looks much like a traditional AGA cooker and - just like the traditional model - the cast-iron ovens are always available for use, creating that indefinable AGA warmth. However, with an AGA Dual Control the ovens feature a new low energy setting and can also be switched off completely. What's more, the two hotplates can be turned on and off independently. This means you can make a reduction in the overall heat input into the room from the cooker when desired and, in turn, reduce running costs.

HOW THE HOTPLATES WORK - Behind the top left hand door sits a small dial which operates either the boiling plate, the simmering plate or both. In each of the hotplates there is a powerful heating element. The boiling plate will be ready to use in around 11 minutes from cold. The simmering plate will be ready to use in around 8 minutes.

HOW THE OVENS WORK - As with all previous heat-storage AGA cookers, the cast-iron ovens are indirectly heated from a single small heat source, the heat being conducted across to each oven in exactly the correct proportions to provide the different cooking temperatures for roasting, baking and simmering. This provides kind-to-food radiant heat which locks in moisture and goodness. All three ovens have a new feature of a low energy setting, reducing the oven temperatures. This in turn gives a reduced heat output into the room and, naturally, a reduction in running costs. From this new low energy setting it is possible to reach full oven cooking heat in around two to four hours


Energy Consumption

A large proportion of the energy is used via the hotplates on a Traditional AGA cooker, so by being able to turn them off, there is a significant saving to be made. The addition of the option to reduce the oven temperatures provides yet further potential energy savings. Rigorous testing of the AGA Dual Control has been undertaken to assess the energy consumption under different conditions of use. We have commissioned an independent body - GASTEC at CRE to test the AGA Dual Control.

LOW ENERGY SETTING - The energy saving is achieved through dropping the roasting oven to below 200°C. The temperature of the other ovens will also reduce.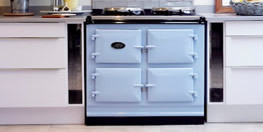 Beneath the design values of every AGA range cooker lies a heart of cast-iron. Ready to cook whenever you are, with no switches and dials to master.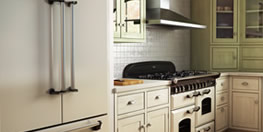 The AGA refrigeration collection is innovative, reliable, classically designed and unmatched in terms of performance as you would expect from AGA.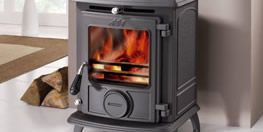 Generations of children have grown up with the traditional AGA range cooker in the kitchen. AGA also produce quality woodburning and multifuel stoves.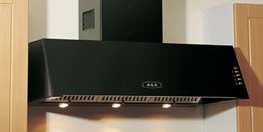 Complement your AGA range cooker with one of our cooker hoods, our vent hoods coordinate perfectly with any
AGA range of cooker.