Key Features

:
• Gas burners - Give instant power and a rapid response, for variable cooking.


•

The powerful 4.5kw burner is ideal for Wok cooking.
• Ceramic electric grill - Part of the conventional oven.
• Conventional electric oven - The heat zones of this oven make it ideal for all


•

types of cooking.
• Electric fan oven - A programmable fan oven that reaches desired temperature rapidly.


•

This oven maintains an even temperature, perfect for cooking several dishes at once.
• Cast-iron doors - Uniquely AGA, the Six-Four doors are made from cast-iron with a
•gleaming vitreous enamel finish.
• Special oven linings - To save on cleaning time, the ovens have a specially developed
• lining which helps them keep themselves clean during cooking.
• Digital timer - To fit in with your schedule, the timer allows you to program the fan oven
• to start and stop automatically.
• Powerful cooker hood (optional extra) - Efficient, stylish and designed to complement


•

your S-Series Six-Four, its high performance three-speed fan will absorb strong smells
•and steam.
• Flame failure device - Each gas burner is fitted with a 'flame failure' device for the


•

highest level of safety.

Colours Available:


Cream, Aqua, Aubergine, Black, British Racing Green, Dark Blue, Duck Egg Blue, Pearl Ashes, Pewter, White, Heather, Pistachio
How It Works


Fast, powerful and easy to control, the S-Series Four-Two will fit snugly between standard kitchen units. For instant power it has four gas burners, a conventional electric oven ideal for all types of cooking, a programmable fan oven that reaches the selected temperature quickly and a rapid-response ceramic grill offering even heat distribution.

The S-Series Four-Two may be small, but it can still make a big impression in the kitchen. With classic AGA good looks – a stunning cast-iron exterior finished in vitreous enamel forged at AGA's Coalbrookdale foundry – it's the ideal space-saving solution for smaller, modern kitchens. The S-Series Four-Two is available in dual fuel (gas hob and electric ovens) and a variety of classic AGA colours.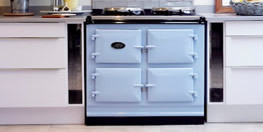 Beneath the design values of every AGA range cooker lies a heart of cast-iron. Ready to cook whenever you are, with no switches and dials to master.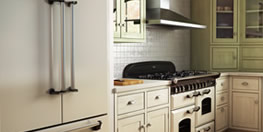 The AGA refrigeration collection is innovative, reliable, classically designed and unmatched in terms of performance as you would expect from AGA.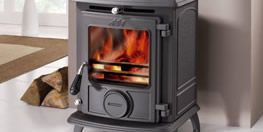 Generations of children have grown up with the traditional AGA range cooker in the kitchen. AGA also produce quality woodburning and multifuel stoves.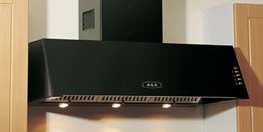 Complement your AGA range cooker with one of our cooker hoods, our vent hoods coordinate perfectly with any
AGA range of cooker.