Details:
The Ludlow SE is a dedicated smoke exempt version of the highly popular Ludlow stove. The low particulate emissions from the SE model mean that it is fully approved to burn wood in smoke exempt zones, typically associated with urban centres of population.

Equally at home in a traditional or contemporary setting, the Ludlow SE offers understated style, classic design and exquisite detail.

The Ludlow SE is a medium-sized wood-burning stove. The nominal heat output is 6.5kW from wood, increasing to a maximum of 9.9kW with 76.2% efficiency.

Like all AGA stoves, it benefits from the AGA Active Air Wash System - cutting-edge technology that optimises heat performance, reduces harmful emissions and keeps the stove window clean so you can enjoy the relaxing effect of a real fire.

The beauty of the Ludlow SEstove is in its simplicity. Not only is it easy to use, it is incredibly easy to clean too, thanks to its removable shaker grate, ash pan, fire fence and ash tray. Available in matt black.

Recommended fuel type - Dry seasoned wood

Colours Available:
Matte Black


How It Works:

Hand-made to perfection - The cast-iron panels of an AGA stove are individually moulded in a hand-finished cast. This allows our skilled craftsmen to create the elegant curves and exquisite design details our iconic models are renowned for.

Warms your home for longer - We use cast-iron for its excellent heat retention properties. Even when the embers die away, heat continues to radiate throughout the room. And thanks to the precision-engineered spinwheels and AGA Active Airwash System, AGA stoves offer greater control of the fire.

Build quality that lasts - Like all AGA products, our range of stoves is manufactured to an exceptionally high standard. That's why they carry the CE mark - as they fulfil all necessary European health, safety and environmental protection legislation - and are HETAS (Heating Equipment Testing and Approvals Scheme) listed. For further peace of mind, every AGA stove comes with a five-year parts and one-year labour warranty.
AGA Active Air Wash System - This clever technology is used to keep the glass of our stoves clean, allowing a clear view of the fire, while ensuring every stove runs as efficiently as possible. This guarantees maximum heat output is achieved from the fuel used and minimises harmful emissions. It also creates the perfect conditions for combustion by carefully channelling fresh air below, around and above the firebox. Before re-entering the atmosphere, any solid particles and volatile gases produced by the fire are re-ignited and destroyed.
Stove or open fire? - An open fire will warm the room, but it has many drawbacks that a stove doesn't. For example, the majority of heat produced by an open fire - up to 85% - will escape through the chimney. Using a stove, heat remains in the room due to the warm air that's continuously circulating around it. And, because an AGA stove is made with cast-iron panels, it can store heat while the stove is lit - so the heat continues radiating through the room long after the embers have died away.

A stove is also much more efficient at circulating heat through large rooms and the warmth can even rise up stairwells to landings. This means you won't have to rely as much on other heating systems within your home, which could in turn reduce your energy bills.

Fuel Types:
Information on wood fuels - Unlike fossil fuels, such as coal, gas or oil, wood is carbon neutral. This means that burning a log of wood only produces as much carbon dioxide as a log decomposing on the forest floor. If used in the right circumstances wood can be a highly economical choice, too.

Dry seasoned wood contains up to 90% less moisture than fresh cut wood, which means it produces less steam and saves up to 50% of potential heat.

Also keep in mind that hard wood is a better option than soft wood as it is slower to burn, meaning you will use less. Wood is a renewable fuel source that is gentler on the environment. It also helps the preservation of fossil fuels such as coal and oil.
HINTS & TIPS
• For the best drying conditions, store your logs in a dry store allowing plenty of air to flow around them
• Wood burns best on a bed of ash so make sure your firebox always has some ash in it
• Pick out the driest logs; they're easy to spot as the bark comes away easily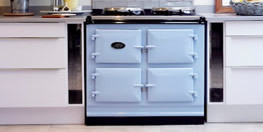 Beneath the design values of every AGA range cooker lies a heart of cast-iron. Ready to cook whenever you are, with no switches and dials to master.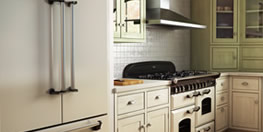 The AGA refrigeration collection is innovative, reliable, classically designed and unmatched in terms of performance as you would expect from AGA.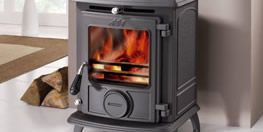 Generations of children have grown up with the traditional AGA range cooker in the kitchen. AGA also produce quality woodburning and multifuel stoves.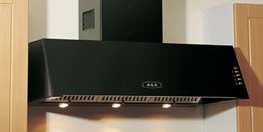 Complement your AGA range cooker with one of our cooker hoods, our vent hoods coordinate perfectly with any
AGA range of cooker.