Premium Standard Refrigerator
Key Features

:


INDEPENDENT CONTROL

-

The AGA Premium Refrigerator's three compartments can be set and controlled independently because they are constructed using two separate compressors and three evaporators. You can check the temperature of each compartment or adjust as required with the easy-to-use interactive digital menu system. Should you leave the door open by mistake, lose power or risk a rise in temperature, an alarm will sound.





FRIDGE

-

This is a large refrigerator area that boasts Ultra Bright tempered glass shelves with a high quality aluminium finish. Capable of optimising its settings to suit the type of food being stored, this compartment has its own evaporator and temperature controller, which can be set by the digital menu. It's an incredibly versatile space featuring Easy Lift™ split-level shelving that lets you configure the layout in seconds to accommodate taller or bulkier items.





FRESCO

™ -

Two large Fresco™ drawers offer sealed, humidity controlled compartments where fresh food and delicate produce can be preserved at 0oC. The Fresco™ drawers facilitate optimum preservation by reducing water loss in fresh foods. With consistent low temperatures, food takes longer to deteriorate while the separate compartments restrict any cross-contamination. Each section of the refrigerator features soft closing doors and drawers to ensure no items can be juddered.





FREEZER OPTION

-

The unique TriMode™ System means you can use it as freezer, fresco or extra fridge space. Every mode offers optimum temperature and humidity through easily adjustable electronic controls. The TriMode™ can be set as low as -22°C (freezer settings) or as high as 8°C.





BUILT-IN ICEMAKER

-

The icemaker's intelligent Water Filter guarantees bacteria and stagnation free water and crystal clear ice production. It automatically produces ice ensuring you always have a supply to hand and you can choose from a variety of cube sizes and even increase production as required. Alternatively, if ice isn't needed, you can turn off the facility and utilise the storage space.



Colours Available:


Black, Cream, Pewter
Further Features


This particular model has earned an impressive A+ energy efficiency rating thanks to innovations like these:




•

Shopping mode that quickly returns fresh produce to its optimum temperature after you've been to the supermarket.


•

Holiday mode that will effectively save energy while you're away.


•

Additional Features; Date, Time, Multilingual Controls - English, Italian, French, German and Spanish


•

Temperature sensors and humidity controls ensure food retains moisture and essential nutrients without drying out.


•

Soft closing doors ensure no items can be juddered or damaged.


•

Insulated doors reduce energy loss and noise.


•

Total frost-free technology prevents the build-up of ice and improves overall efficiency.


•

Stainless steel interior capitalising cooler temperatures to reduce the effects of any sudden temperature change.


•

Magnetic gaskets and stainless steel surfaces allow the doors to seal shut, preserving energy.


•

Operation systems can use as little energy as a 50W bulb.


•

TriMode™ allows you to flexibly choose the function of the bottom drawer, fridge, freezer or fresco all by a touch of a button.


•

TriPro™ preservation offered by 2 compressors and 3 evaporators within separate compartments.


•

ProVent™ assures better preservation conditions through independent, even distribution ventilation in each compartment.


•

Anti-bacterial interiors from treating the stainless steel interior to inhibit bacteria growth.


•

The EquiLance™ hinge allows for flush installation and door opening.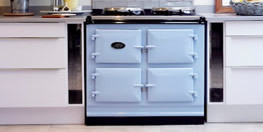 Beneath the design values of every AGA range cooker lies a heart of cast-iron. Ready to cook whenever you are, with no switches and dials to master.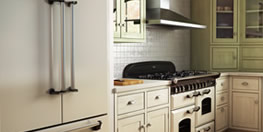 The AGA refrigeration collection is innovative, reliable, classically designed and unmatched in terms of performance as you would expect from AGA.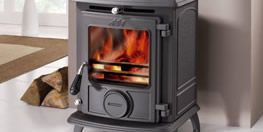 Generations of children have grown up with the traditional AGA range cooker in the kitchen. AGA also produce quality woodburning and multifuel stoves.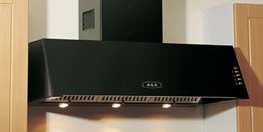 Complement your AGA range cooker with one of our cooker hoods, our vent hoods coordinate perfectly with any
AGA range of cooker.