Premium Wine Cellar Refrigerator
An AGA Wine Cellar will store up to 54 bottles, with six standard bottles or magnums per shelf. The main compartment has a special Riserva zone that offers exact temperature and humidity control in two zones, making it the best place to store gourmet and vintage wines for longer.

The door of bronzed glass stops harmful UV rays affecting the quality of your wine, while ensuring your wine collection can be appreciated. Perfect for the preservation of speciality products such as cheese and cigars.

The unique TriMode™ compartment at the base can be set by you to serve as a fridge, Fresco™ or freezer compartment, depending on whether you need to chill extra drinks or take the overflow from a full fridge or freezer. Patented EquiLance™ technology allows for a soft closing device to eliminate jolting for perfect cellaring while beech wood shelves reduce vibration and flavour contamination.

Colours Available:


Black, Cream, Pewter
Key Features
RISERVA SECTION - The main compartment offers precise temperature and adjustable humidity control, ideal for preserving and ageing wine. These controlled conditions will also preserve natural corks accordingly, as if laying down in an underground cellar, as well as speciality cheeses and cigars.

LOW ENERGY LED LIGHTING - Internal lights turn off when the door is shut, so the flavour of wine isn't affected. You can also alter the setting to showcase your collection.

TRIMODE™ SYSTEM - A flexible 90 litre storage compartment for use as a freezer, fresco or fridge with temperatures ranging from -22°C to 8°C.

OPTIONAL STANDS - You can use the optional stands to elevate sealed or open bottles for presentation purposes.

OTHER FEATURES:


•

Three zones in three departments.


•

Controlled humidity through ProVent ™ system.


•

Additional Features; Date, Time, Multilingual Controls - English, Italian, French, German and Spanish


•

Other colours available at premium by request, please ask in store for details.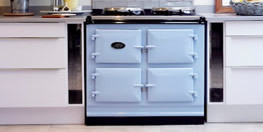 Beneath the design values of every AGA range cooker lies a heart of cast-iron. Ready to cook whenever you are, with no switches and dials to master.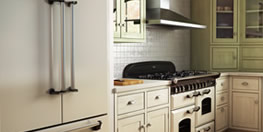 The AGA refrigeration collection is innovative, reliable, classically designed and unmatched in terms of performance as you would expect from AGA.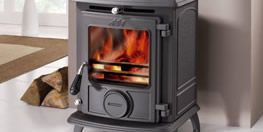 Generations of children have grown up with the traditional AGA range cooker in the kitchen. AGA also produce quality woodburning and multifuel stoves.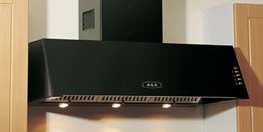 Complement your AGA range cooker with one of our cooker hoods, our vent hoods coordinate perfectly with any
AGA range of cooker.