Key Features

:


•

Independently controllable hotplates


•

Independently controllable ovens (roasting, baking, simmering ovens)


•

State-of-the-art control panel


•

Running costs from £5 per week


•

Reduced servicing costs


•

Remote control via app or text message (optional feature)


•

Available in 12 beautiful colours


•

Site anywhere in the kitchen, including an island unit


•

Slumber mode for slow cooking, or to give gentle heat into the kitchen


•

All new AGA heat-storage range cookers come with a five-year parts


•

warranty and one-year labour warranty



Fuel Type:




Electric



Colours Available:


Cream, Aqua, Aubergine, Black, British Racing Green, Dark Blue, Duck Egg Blue, Pearl Ashes, Pewter, White, Heather, Pistachio
How It Works


At the heart of the electric AGA Total Control cooker is a touch-screen control panel which puts you in charge of how and when the cooker is used. Discreetly housed behind the top left door, the nerve centre of the AGA Total Control cooker can be accessed directly or programmed via a remote control handset. Using the control panel, the hotplates and ovens can be turned on manually when needed. It's so flexible – you can heat only one hotplate or both.

You can opt to heat only the roasting oven, the baking oven or the simmering oven – or all three. Alternatively using the remote control handset, you can even programme the cast-iron ovens to come on automatically for one or two cooking cycles per day, seven days a week. You can set the AGA Total Control cooker to provide the constant ambient warmth to the kitchen for which the AGA cooker is renowned.

The very latest technology is put to good use with the AGA iTotal Control. Owners who buy the iTotal Control model of the 3-oven AGA can switch their AGA ovens on and off wherever they are by using a smartphone app, PC or tablet or via a simple text message. It's perfect for those times when plans change or in the type of household where people come and go and want to eat at different times. This is the 21st century cooker and is made for lovers of both great tasting food and new technology.

Energy Consumption

With AGA Total Control, the energy needed to cook can be reduced to under a fifth of that for the classic AGA heat-storage cooker; usage depends of course on how much of the time you choose to have it on or have it in slumber mode (from which the AGA has shortened heat-up times).

The amount of energy used in the summer compared to the winter may vary significantly due to use of the slumber mode and perhaps the type of food cooked in the winter compared to the summer months.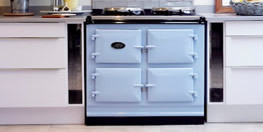 Beneath the design values of every AGA range cooker lies a heart of cast-iron. Ready to cook whenever you are, with no switches and dials to master.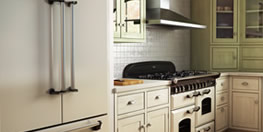 The AGA refrigeration collection is innovative, reliable, classically designed and unmatched in terms of performance as you would expect from AGA.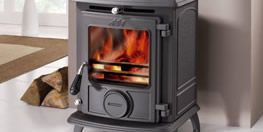 Generations of children have grown up with the traditional AGA range cooker in the kitchen. AGA also produce quality woodburning and multifuel stoves.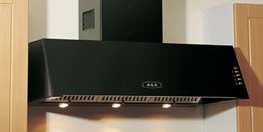 Complement your AGA range cooker with one of our cooker hoods, our vent hoods coordinate perfectly with any
AGA range of cooker.